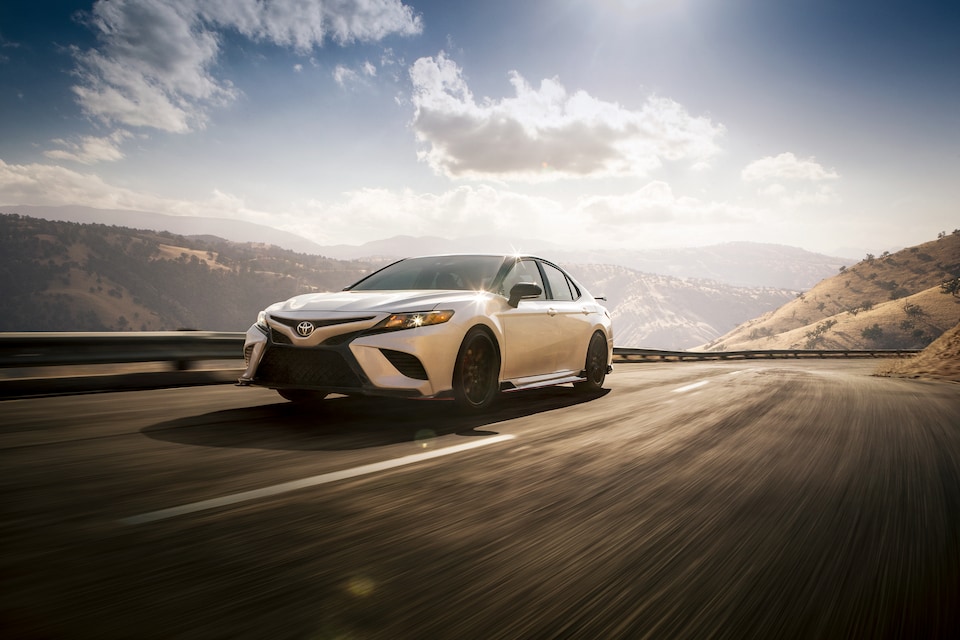 The Toyota Camry: Legendary Reliability Meets Unmatched Value
Its strong history of quality, reliability, and resale value place the Toyota Camry at the top of mid-size sedan ratings every year. Its styling, power options, and the influence of Toyota's Racing Division give it a racer's spice.
And now, Toyota Camry pricing at Fucillo Toyota of Grand Island make it a best-value purchase for customers all over the greater Buffalo area.
Across its storied history, the designers at Toyota have been careful to keep the Camry's styling up to date. Its sleek curves and sweeping roofline make it recognizable all over .
With 12 trims to choose from, you can pick a Camry that matches your style right off the showroom floor. From the simple reliability of the base model L to the racing-inspired TRD, you will find just the Camry for you at Fucillo Toyota of Grand Island. And special Camry offers at our showroom near Buffalo, NY make the performance even more appealing.
The practical side of the Camry shows up at the gas pump. It is consistently at the top of the EPA's mileage ratings for mid-size sedans.
The fun side of the Camry shows up on the road. With multiple engine packages available, you can select a Camry with just enough muscle to merge into traffic in Buffalo, NY. Or you can pick one with enough horsepower to make your commute a lot more fun.
Inside, the Camry cabin blends comfort with technology. Toyota designed the Camry with a wide-open feel, centered on a driver's station that puts you in control of the whole experience.
Its information display simultaneously keeps you up to date with the Camry and with your trip. Connectivity and both Apple and Android compatibility are standard. The Camry even offers an available JBL audio system that turns the Camry into your private concert hall.
Along with all the comfort and performance, Toyota ensures the Camry's reputation for safety with a technology suite that is second to none.
From collision detection to dynamic cruise control and lane management, the Camry fulfills Toyota's promise that "peace of mind comes standard."
You can buy a Camry at Fuccillo Toyota of Grand Island, your Buffalo area Toyota dealership.
Make an Inquiry